Successful Training Workshops for the ETi-200 & WeldCheck in Asia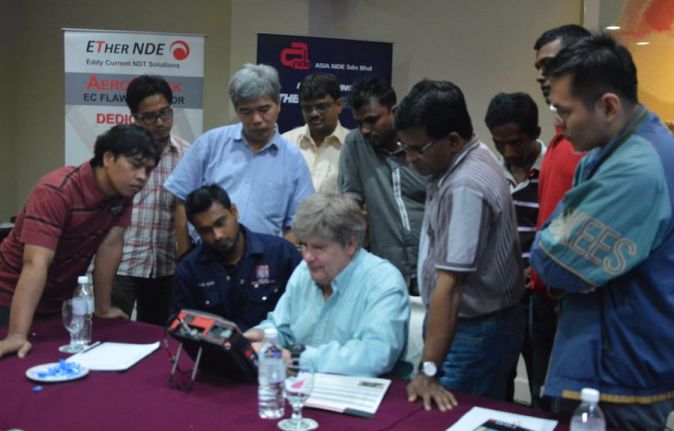 November 2013
John Hansen and Mike Reilly hosted an ETi-200 and WeldCheck two day training session in Malaysia in conjunction with our Malaysian and Indonesian distributors.
The training took place at Holiday Villa, Subang Jaya last week with fifteen attendees from five different countries, including three distributors and twelve customers from Malaysia, Singapore and Taiwan. For the ETi-200 attendees concentrated on Tube Inspection and for the WeldCheck the training included general familiarisation and Remote Access.
The success of this regional training session is the start of more of the same as we head into 2014. Mike said,
"We were very pleased with the outcome of this training session and look forward to offering more application specific regional training sessions in conjunction with our distributors for customers world-wide"
---
About ETher NDE
We are a dedicated manufacturer of Eddy Current (ECT) non-destructive testing (NDT) equipment, probes and accessories and the 'go to' company for all your Eddy Current (EC) NDT Solutions. ETher NDE was founded on three core principles and to this day they are still what we operate in line with everyday. They are firstly the ability to speak to someone who understands our product, the industry and your applications; secondly industry-leading delivery times on equipment and probes and the ability to respond to your challenges and thirdly that our products are second to none in both performance and quality. We are proud that as a company we operate to these core principles continuously and that we are true to the main reason the company was founded; to offer Eddy Current NDT Solutions to the industry backed up by a wealth of knowledge and sealed with great customer service from real people who care and are passionate about what they do.