ETi-200
The ETi-200 is an advanced Eddy Current Flaw Detector from ETher NDE. The ETi-200 is designed to offer advanced multi-frequency and multi-channel flaw detection housed in the smallest portable EC package on the market.
Appealing to all sectors within NDT, the ETi-200 allows the Operator to programme not only frequency, but many other advanced functions. With single-Probe operation, the ETi-200 can multiplex eight Channels, making the ETi-200 the most flexible portable unit available. Alternately with two Probes connected the ETi-200 allows any mix of eight channels across two Probes.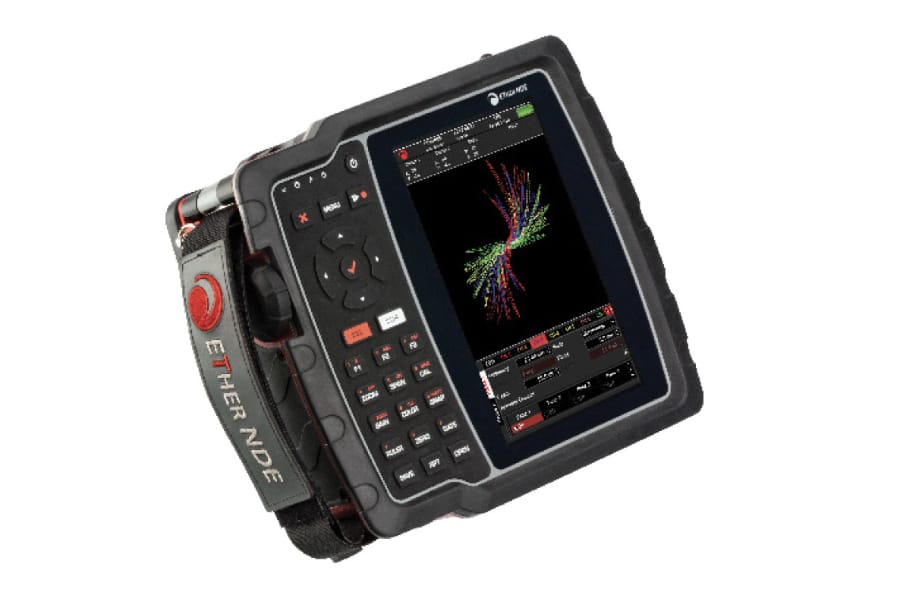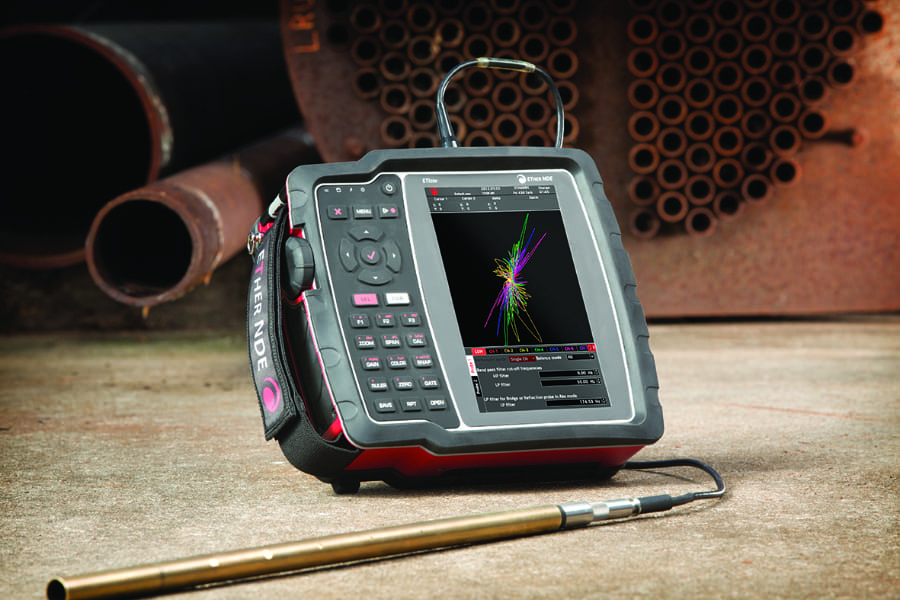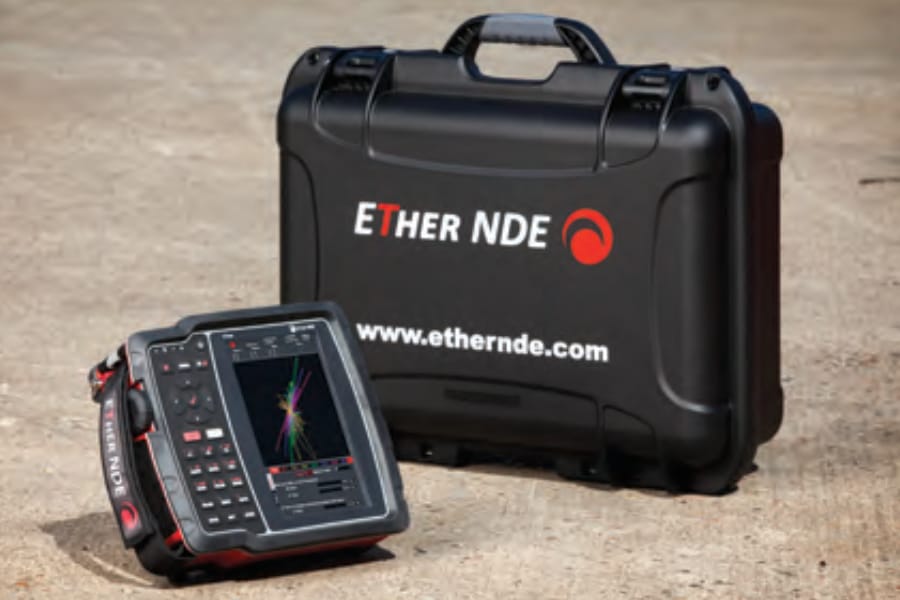 ---
Industries & Applications
Advantages
Rugged instrument with cast aluminium frame, rubber over-moulding and ergonomic design
Great battery life (5.5 hours) with "quick swap" batteries
Removable Eddy Current Cartridge allows easy future upgrades and enhancements
Excellent analogue performance
Advanced Software including signal mixing functions, measurement cursors, configurable alarms and auto-load
Features
Powerful & Compact
Weighing just 2.8kg (6.2lbs) with a compact footprint, the ETi-200 offers the user more advanced features than any equivalent unit. Designed with end users and the inspection environment in mind, the ETi-200 includes an adjustable hand-strap, harness attachment points and meets the IP54 standard making it splash and dust proof.
Large High Definition Display
The ETi-200 has an impressive 7" diagonal 800 x 480 pixel colour TFT display. Colours on the display are user-programmable and menus incorporate feature friendly icons. The display can presents with one, two or four panes. Each pane can in turn have any channel displayed on it in different colours.
State of the Art Communications and Data Storage
The ETi allows USB peripherals (memory stick, mouse, keyboard) to be connected; i.e. USB "on-the-go" and features an Ethernet port for software upgrades and future functions and a full-size 32Gb SD Card slot. At a 25k sample rate, the ETi-200 can store as much as 48 hours of continuous live recordings.
Standard Kit
Part #
Item
KIETI002 KIT, ETi 200 - two channel, eddy current flaw detector. Kit includes:
IETI002
Instrument. ETi 200 - 2 channel eddy current flaw detector, multi-frequency 10Hz - 15 MHz, Gain 0-100db, LEMO 12-way, manual on USB Stick and carry strap
AETI001
Accessory, hard transit case with foam inserts
AETI002
Accessory, ETi 200 AC power adapter (class 1 triangular connector) Input: 100 - 240V, 47-63Hz, 1.2A max output: 24V 3.75A
A123
Lead, Micro-B USB OTG cable, 10cm
40357
ETi Quick Reference card
AMXXX
Accessory: Mains lead, 2m, class 1 triangular connector, (as per country of destination)
ALL12-L04-015R
Accessory: Lead, LEMO 12-way - LEMO 4 way, 1.5m (Reflection)
ALL12-L04-015B
Accessory: Lead, LEMO 12-way - LEMO 4 way, 1.5m (Bridge)
ALLCX-M02-015A
Accessory: Lead, LEMO 00 to Microdot, 1.5m
ALLCX-B02-015A
Accessory: Lead, LEMO 00 to BNC, 1.5m
AALCX-B02S
Accessory: Adapter, LEMO 00 o BNC jack (short) (LEMO 00 to BNC)
Accessories
| Part # | Item |
| --- | --- |
| AM001 | Accessory, Mains Lead, UK plug, 2m, 250V, 2.5A (class 1 triangular connector) |
| AM002 | Accessory, Mains Lead, European plug, 2m, 250V, 2.5A (class 1 triangular connector) |
| AM003 | Accessory, Mains Lead, USA plug, 2m (class 1 triangular connector) |
| AM004 | Accessory, Mains Lead, AUS plug, 2m (class 1 triangular connector) |
| AM004 | Accessory, Mains Lead, Japan plug, 2m (class 1 triangular connector) |
Specification