EmBed EC
EmBed EC is ideal for integrating Eddy Current into an automated system to provide a solution to varied applications.
Surface breaking defects detection
Sub-surface defects detection in non-ferrous materials
Heat Treatment/Material property verification
Sensing applications for verifying geometry such as the presence of threads, butt-weld detection etc.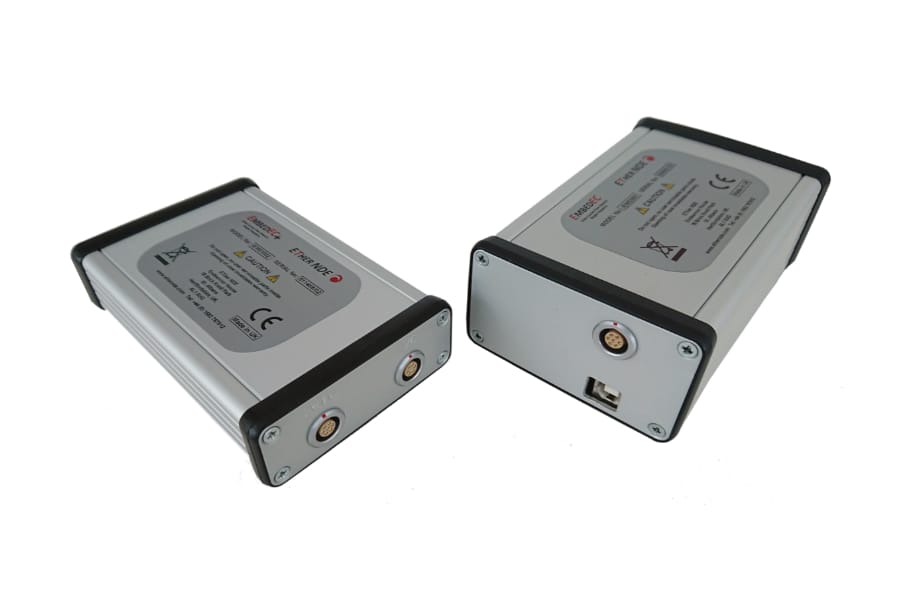 The EmbedEC has been designed with the needs of the engineer in mind featuring Analogue outputs and SPI and USB remote control/data streaming for Control System Integration. It's possible to stream real time data and a DLL is available to permit software integration by the end user.
Industries & Applications
Advantages
Displayless
Single Channel
Small footprint
USB or SPI control
Dual analogue outputs on SPI card version
Powered by 5V Dc or USB for easy integration with industrial control systems
DLL available to facilitate software integration
Features
Flexibility
Available as a print circuit board or in an enclosure with USB connector with analogue outputs.
Data Output
Data Streaming is possible over SPI or USB configurations.
Standard Kit
Part #
Item
Embed EC: Three Variants
IEMEB001
PC Board
IEMEI001
USB Instrument without I/O
IEMEI002
USB Instrument with I/O EmbedEC
Probe Cables
ALL07-L04-015B
Probe Cable Bridge USB Instrument
ALL07-L04-015R
Probe Cable Reflection USB Instrument
KIEM001
Kit, EmbedEC, Embedded Eddy Current Unit (Aluminium Enclosure Body Construction) Including:
IEMEI001
Instrument, EmbedEC, Eddy Current Single Channel/, Single Frequency, (Aluminium Enclosure Body Construction)
ALL07-L04-015-EEC-B
Accessory, Lead, Lemo 7-Way - Lemo 4-Way,, 1.5m, To fit EmbedEC (Bridge)
ALL07-L04-015-EEC-R
Accessory, Lead, Lemo 7-Way - Lemo 4-Way,, 1.5m, To fit EmbedEC (Reflection)
AC009
Accessory, Hard Carry Case (EmdebEC)
A263
USB LEAD - USB Type B Plug to USB Type A Plug, 1.8M, (RS: 481-0047), (ROLINE 11.02.8818)
KIEM002
Kit, EmbedEC+, Embedded Eddy Current Unit with I/O (Aluminium Enclosure Body Construction) Including:
IEMEI002
Instrument, EmbedEC+, Eddy Current Single Channel/Single Frequency, I/O (Aluminium Enclosure Body Construction)
ALL07-L04-015-EEC-B
Accessory, Lead, Lemo 7-Way - Lemo 4-Way,, 1.5m, To fit EmbedEC (Bridge)
ALL07-L04-015-EEC-R
Accessory, Lead, Lemo 7-Way - Lemo 4-Way,, 1.5m, To fit EmbedEC (Reflection)
AC009
Accessory, Hard Carry Case (EmdebEC)
A288
Male USB A to Male Micro USB B, USB 2.0 Black, 1m, (RS: 703-1348), (Molex: 68784-0001)
C254
PLUG 6 WAY LEMO FGG.1B.306.CLAD62Z, (LEMO: FGG.1B.306.CLAD62Z), (FARNELL: 3817325)
C010
CABLE SLEEVE - GMA1B054DN LEMO BLACK , (for cable OD 5.4 to 6.0mm)
40787
Quick Reference Card - EmbedEC+
Accessories
Specification