ETherCheck
EtherCheck ET/Bond Testing Flaw Detector has been designed for NDE on Aerospace specific applications.
EtherCheck offers the operator a rich range of features combined with the most widely used acoustic bond testing method; Pitch-Catch. A common user interface between the two modes, resulting in simple operator led set up.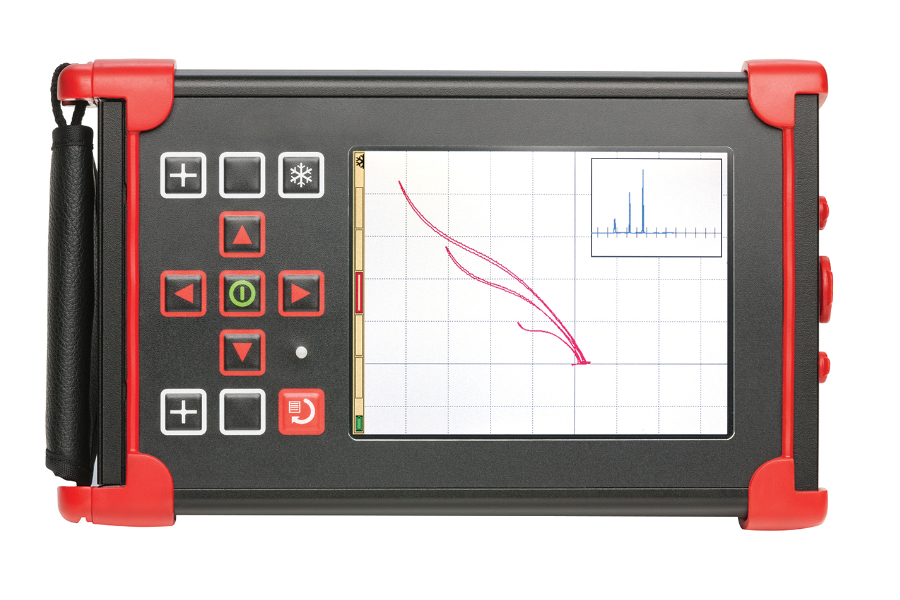 The EtherCheck Pitch-Catch Probe is ergonomically designed and manufactured from CNC-machined Aluminium with rubber hand grips, and so is both comfortable to use and robust.
Designed and manufactured in the UK, out instruments a backed by the ETher NDE promise of outstanding customer service and technology that is both reliable and advanced.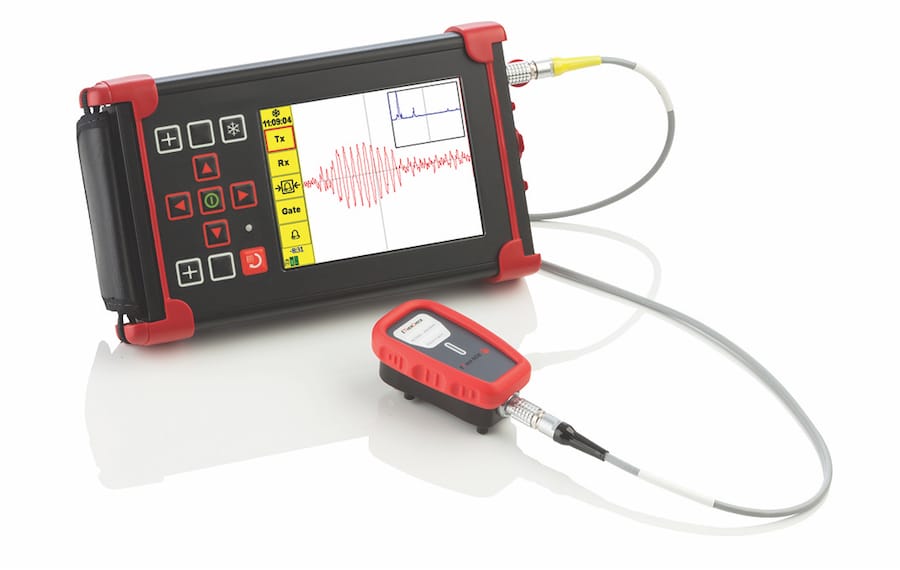 ETherCheck Probe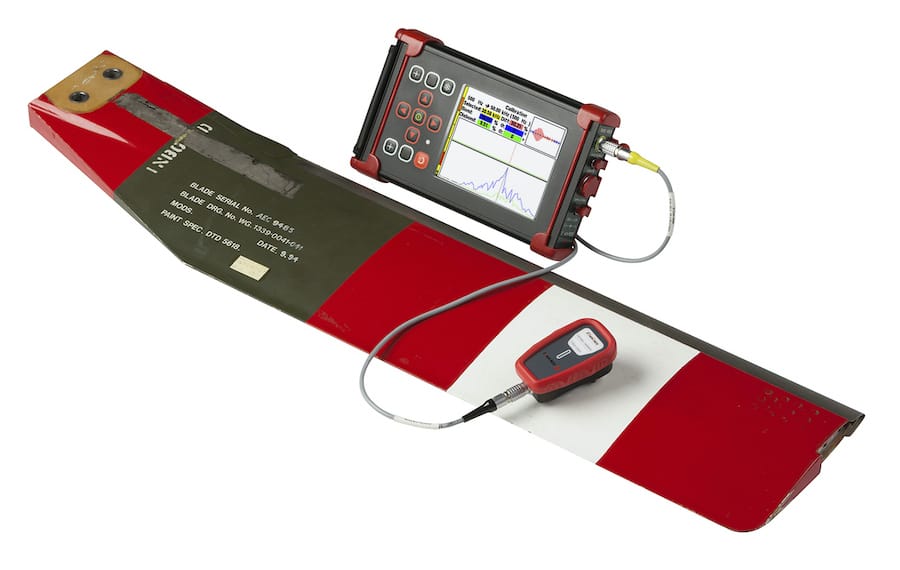 Blade CalSweep
---
Industries & Applications
Advantages
General Eddy current, plus Rotary, plus Conductivity, plus Pitch-Catch bond testing mode
Pitch-Catch dry coupled bond testing mode allows rapid detection of defects in laminate, bonded and sandwich structures
Industry standard 12-Way Lemo and Co-axial Lemo 00 connectors
Automatic test frequency optimisation
Waveform, time-base and phase / frequency plots. User friendly interface, single level menu system, "quick function" sidebar
Large Daylight readable display 145mm (5.7")
Rugged lightweight housing 1.2kg (2.6lbs)
Up to 10 hours battery life (pencil probe), 7 hours (rotary drive) 2 year standard warranty
Optional ETherCover extending warranty to 5 years.
Features
Innovative "Loop" Feature
"Loop" is a convenient way of capturing a live repetitive signal and then adjusting the instrument settings especially Phase, Gain and Filters in order to simplify the task of optimising the parameters.
"Guides" Feature
"Guides" allow the user to display a slide show that can be created easily with commonly used desktop software. The benefit of this feature is that instructions, tutorials and procedures for the inspection can be added to the AeroCheck+ very quickly and the NDT inspector can easily switch between the Inspection itself and the "Guides" while performing a live test.
Trace
The trace function allows a reference waveform to be stored on the screen and appears along with the graticule behind the live spot. This allows the operator to readily compare the live data with the reference calibration.
Operator defined "soft keys"
There are four soft key positions for operator selectable icons for frequently used functions and a fifth position for the last menu function used. Each saved instrument setting can be associated with a unique, one press set of quick access functions. There are also two front panel hard keys that can also be easily programmed for rapid one press access to instrument functions.
Standard Kit
| Part # | Item |
| --- | --- |
| IAER002 | AeroCheck portable flaw detector, (AeroCheck+ Dual Frequency (20Hz-20MHz), Software + Manual on USB Stick |
| AWEL002 | Accessory, AeroCheck, Power Adapter + Input Plugs (UK, EU, US & Australia) |
| AWEL003 | Accessory, Adjustable Shoulder Strap, Padded with Quick-Release |
| AC006 | Accessory, Instrument Soft Carry Case |
| A090 | USB Cable, A to MIN B, 1 metre |
| 40449 | Quick Reference Card – AeroCheck |
| ALLCX-M02-015A | Accessory, Lead, Lemo 00 to Microdot, 1.5m (Absolute) |
| ALL12-L04-015R | Accessory, Lead, Lemo 12-Way - Lemo 4-Way (Reflection) |
Accessories
| Part Number | Item |
| --- | --- |
| AER002 | Hard Transit Case (AeroCheck) |
| AAER004 | Protective Splash Proof Cover (WeldCheck / AeroCheck) |
| 40470 | Tripod Bracket - To fit 1/4" Camera Tripod Mount with Male Screw (WeldCheck / AeroCheck / AeroCheck+) |
| AWEL006 | External, 8 x AA Battery Holder and On/Off Switch |
| AWEL007 | Wrist Strap |
| AWEL008 | In-car Power Adapter |
| ARD002 | Mercury (mini) Rotary Drive |
| ALL12-L04-015R | Accessory, Lead, Lemo 12-Way - Lemo 4-Way, 1.5m (Reflection) |
| ALL12-L04-015B | Lead, Lemo 12-Way - Lemo 4-Way, 1.5m (Bridge) |
| ALL12-L12-020M | Lead to connect Mercury (mini - ARD002) Rotary Drive. Length = 2 metres. 12 Way Lemo |
| ALL12-F08-020ETH | Adapter lead to connect Rohmann Rotary Drive MR3, SR1 and SR2. Length = 2 metre. 12 Way Lemo |
| ALLCX-M02-015A | Accessory, Lead, Lemo 00 to Microdot, 1.5m (Absolute) |
| ALLCX-B02-015A | Accessory, Lead. Lemo 00 to BNC, 1.5m (Absolute) |
Specification