VeeScan
The VeeScan is ETher's first Wheel Inspection System and offers maximum flexibility for the operating inspection environment.
The VeeScan has a proven mechanical design and established record of breakdown-free operation for 365 days or more. Appealing to many companies in the Aerospace industry, the VeeScan is ideal in all wheel-testing environments.
The VeeScan can be configured with a wide choice of probes and allows any wheel testing facility the flexibility to select the system most compatible with their workload. Teamed with a full choice of operation modes, the VeeScan maximises the probability of detection and is offered with the ETher NDE guarantee of complete client satisfaction and excellent technical support.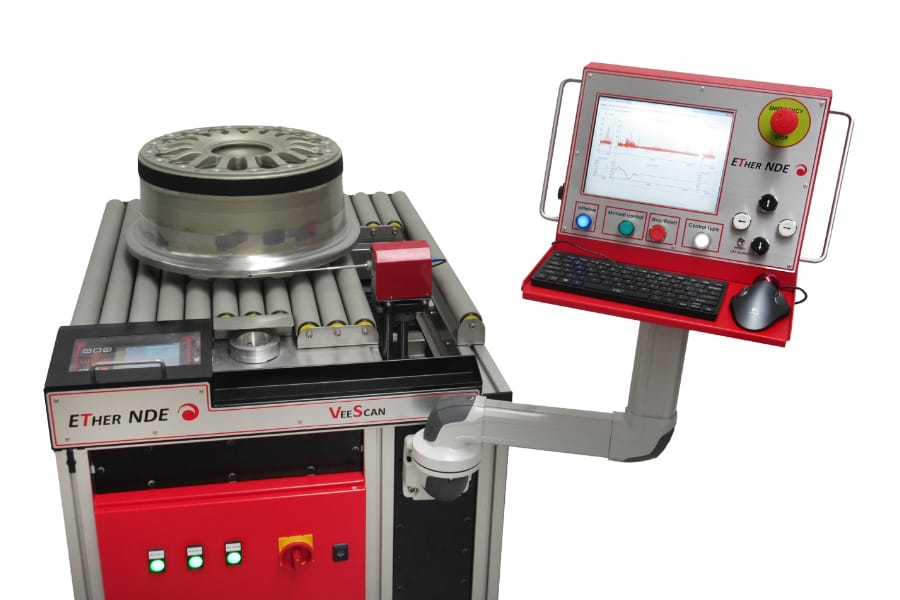 "The VeeScan offers our clients the ability to both improve inspection productivity and the quality of inspection with low cost of ownership."
John Hansen, MD
The VeeScan H is designed to lift the wheel and fix it with an automatic adaptor that uses the wheel inertia to centre it. VeeScan H offers an integrated roller tray for easy manoeuvrability and integration into a conveyor system and can test wheels up to 900mm diameter. The H is designed with an adjustable-height Control Panel for operator comfort and can be positioned at a convenient distance from the main machine. Open on three sides, the VeeScan H offers easy wheel loading as standard.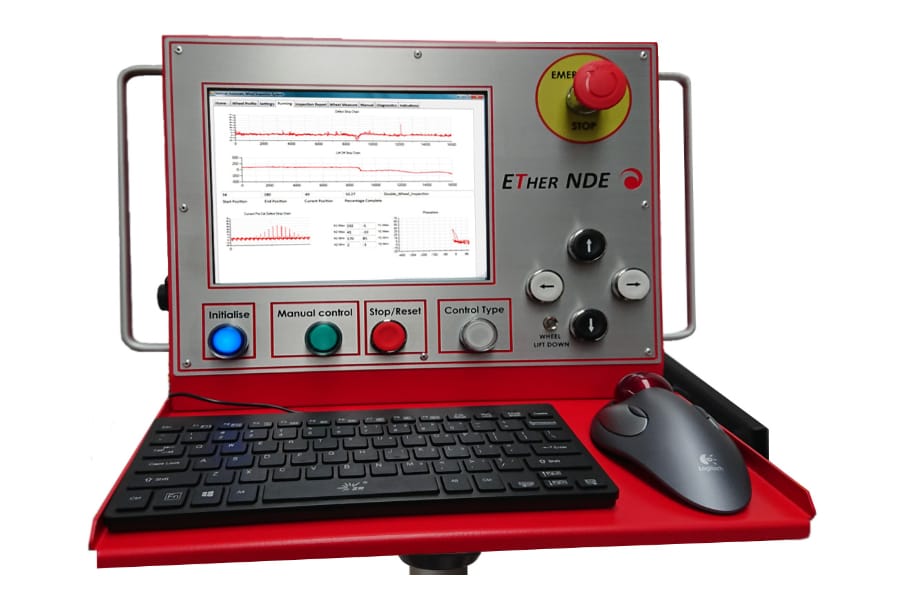 ---
Industries & Applications
Advantages
Dual Frequency high performance eddy current flaw detector with C-Scan capability
User friendly interface, easy initial set up, with "teach & learn" and "save & recall"
Adaptable to many wheel sizes, e.g. from helicopter nose wheels to A380 main wheels
Flexible and can scan wheels in either direction
Simple pdf reporting which can be printed, starred and viewed locally or over your network
Manufactured from heavy duty aluminium extrusions with easy servicing due to standard and readily available parts
Features
Uses the ETher NDE AeroCheck+ Standard Aerospace Eddy Current Flaw Detector. Easily removable for other inspection tasks and protected by a rugged, clear Polycarbonate cover
Heavy duty extruded aluminium structure with removable steel panels
Teflon covered rotating table with three self-adapting grip pins enables rapid change over from one wheel type to another. The three open sides means easy loading of the machine
Roller tray with rubber coated stainless steel rolls facilitates the wheel movement and readily integrates into a conveyor system
Removable dynamic calibration standard positioned conveniently at the front of the machine
Videos
Standard Kit
Part #
Item
KIVEE001-H Kit, Veescan Model H. Including:
IVEE001-H
Veescan Model H - Base Unit + Manual - Designed to lift the wheel and fix it with an automatic adapter that uses the wheel inertia to centre it
IVEE002
Veescan - Eddy Current Flaw Detector, built in CPU with Control and Analysis Software
PA09-200B
Probe, Veescan, Head Dia 9mm, 200kHz (Bridge)
ALL12-L04-025B
Accessory, Lead, Lemo 12-Way - Lemo 4-Way, 2.5m (Bridge) (Veescan)
AVEE001
Accessory, Automatic Wheel Adaptor (Veescan - H)
INSTAL/COMM
MANDATORY: Installation and Commissioning - Including 3 days at the customer site. (Excluding Travel, Hotels and Subsistence Costs)
Accessories
Part #
Item
KAVEE001 Optional: VeeScan 2 years Spare Parts Kit - includes:
AVEE001
Accessory: Automatic Wheel Adaptor (Veescan - H)
AVEE003
Accessory: VeeScan Reference Piece TEC/749/001[2](VeeScan 6728)
AVEE041
Accessory: Set of Top Rollers (x7 Long, x5 Medium, x3 Short Rolls)
AVEE043
Locating Pins (1 set large, 1 set medium, 1 set small) (6728-02-02-T)
PA06-200FB
Probe, VeeScan, Head Dia 6mm, 200kHz, Fine (Narrow Shaft) (Bridge)
ALL12R - L04-0258-V
Accessory: LEMO Lead, 12-Way (90 deg) LEMO 4-Way 2.5m (Bridge) - to fit VeeScan
AW009
Accessory: Tape - Kapton insulating - 6mm wide x 33m.
Specification