SigmaCheck 2
The SigmaCheck 2 Eddy Current (ECT) Conductivity Meter is designed to provide the user with fast and accurate conductivity measurements at a reasonable price; whilst being extremely easy to use making it suitable for use by shop inspectors or engineers.
Meeting the requirements for conductivity measurements in the aircraft manufacture and maintenance, the SigmaCheck 2 is put to work where conductivity measurements are used to verify proper alloy/temper or detect heat damaged components.
The Sigmacheck 2 is extremely user friendly and can just as easily be operated by a semi-skilled Operator as by Experts. It will be equally at home in the Aerospace, Metals Processing, Casting, Maintenance and Quality Assurance industries as well as appealing to Heat Treatment Specialists and those determining the purity of materials such as gold bullion and coins (counterfeit detection).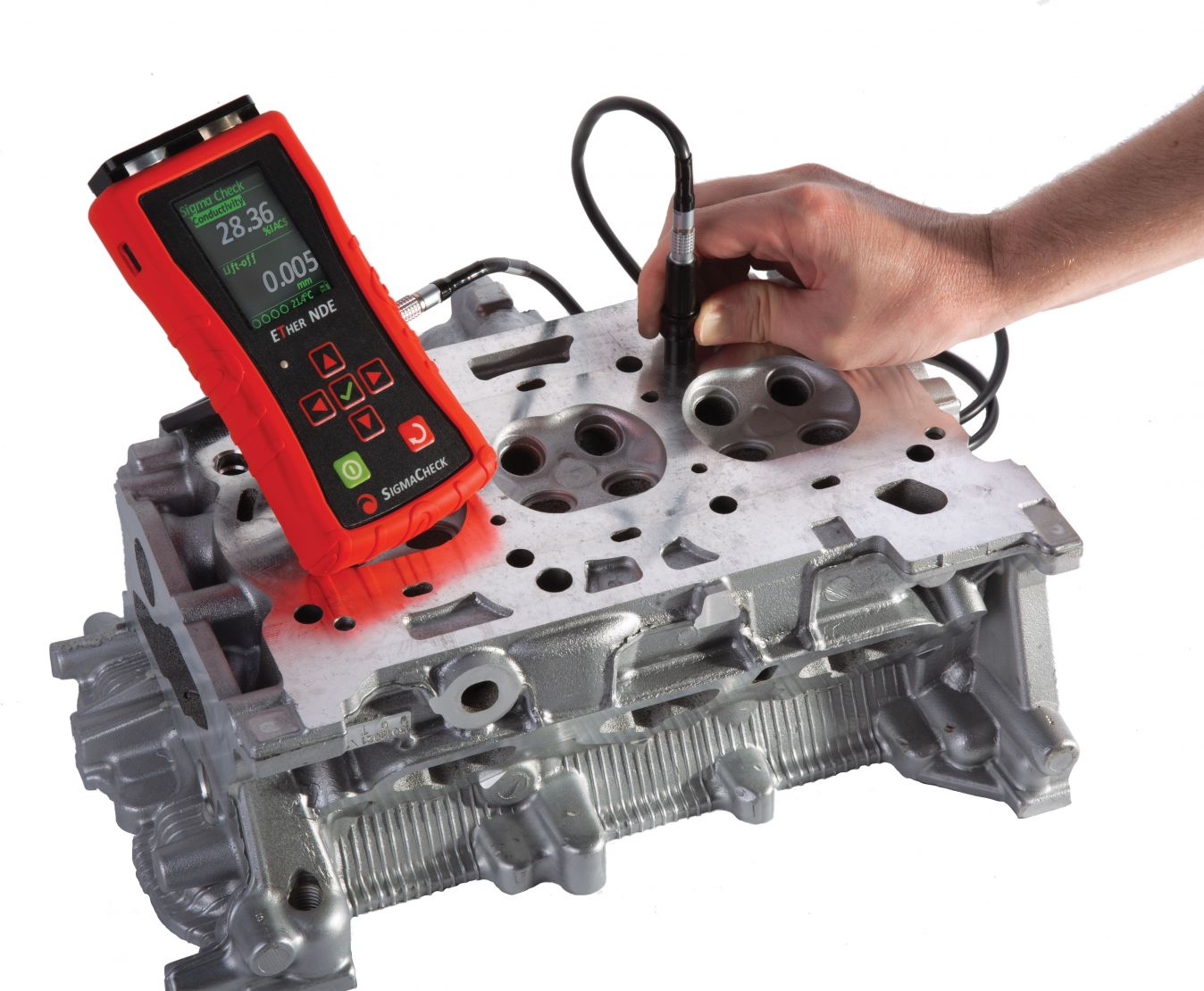 Procedural Compliance
The SigmaCheck 2 complies with the requirements of the following inspection procedures:
Boeing BAC5651
Airbus AITM 6-6004
ASTM E1004
AMS2658
BS EN 2004
MIL-STD-1537
Bell Helicopter BPS 4453
Applications Include:
Material verification / sorting
Heat treatment verification
Heat or fire damage investigation
Material ageing assessment
Measuring phosphor content of Cu alloys
Monitoring of deposition process for non-ferrous material on a non-ferrous substrate
Forged/plated material verification
Non-conductive coating thickness measurement
Determining the purity / composition of materials i.e. gold bullion and coins
Aircraft structures e.g. Paint thickness measurement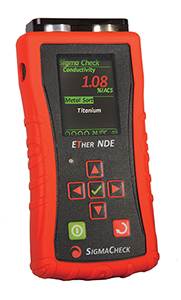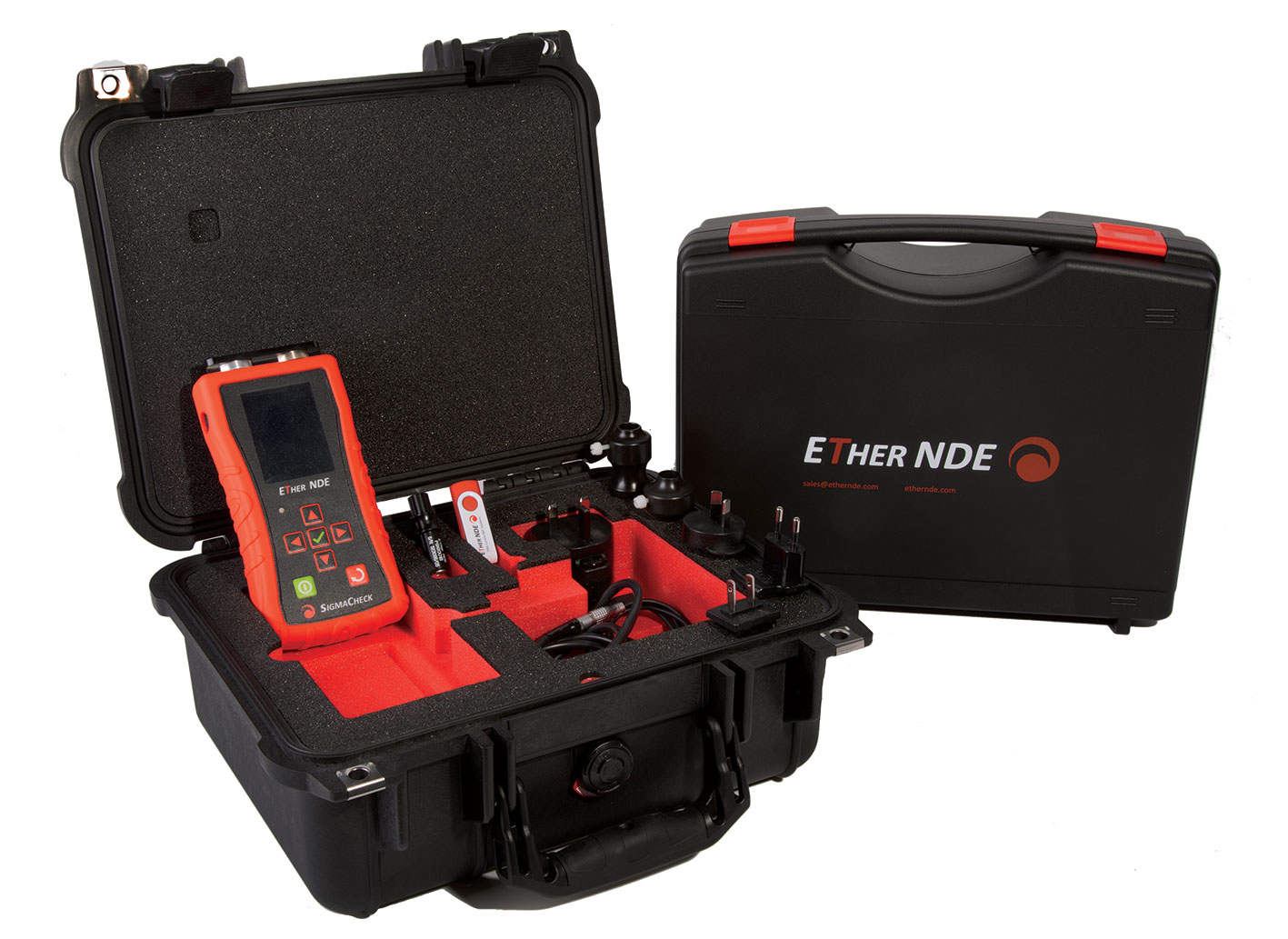 ---
Industries & Applications
---
Learn more about Conductivity in our Knowledge Resource.
Advantages
High resolution colour display 7cm (2.8"), 320 pixels by 240 pixels
Lockdown mode allows advanced users to lock down features and settings for basic operator mode
Accurate conductivity range (0.5% IACS to 110% IACS, 0.28-64 Ms/m)
Wide range of frequencies for testing thin materials (60kHz, 120kHz, 240kHz, 480kHz). Option of 960kHz
Non-conductive coating thickness. Measurement display up to 0.5mm
Lightweight 358 grams (12.6 oz)
Ergonomic slim-line case design and easy to hold probe with adjustable finger-grip.
Features
Features
Battery life (up to 12 hours)
User programmable display
2GB of data storage. Able to store over one million data points
Uploaded data can be viewed using MS Excel
Multiple languages available. e.g. English, German, French, Spanish
Excellent resistance to "edge effect"
Rapid Display of Conductivity Results
Firmware can be upgraded in field
Different probes may be configured by loading the appropriate probe map from SD Card
Real-time clock for time and date so that readings can be "time stamped"
Real-time PC control via USB or optional RS232 link
Standard Kit
Part #
Item
KISIG001B KIT, Instrument, SigmaCheck 2 Conductivity Meter.
ASIG014B
Accessory, Dual Conductivity Reference Standards
Nominal value 9.4% IACS (Nickel Silver) & Nominal Value 59.8% IACS
(Aluminium Alloy 1200 - recommended for Aluminium Alloy use)
(SigmaCheck/SigmaCheck 2) NIST Values
ASIG002
Accessory, Instrument Stand (SigmaCheck)
ASIG004
Accessory, Hard Peli 1400 case, with custom shaped inserts
PSIG001A
Probe, Conductivity, Dia 13.00mm, straight Lemo 5-Way
ALL05-L05-015-SIG2
Accessory, Lead, 5-Way Lemo to 5-Way Lemo, 1.5m
PSIG002A
Probe, Conductivity, Dia 8.00mm, straight, Lemo 5-Way
PSIG003A
Probe, Conductivity, Right-Angled, 60,120,240 and 480kHz Dia 13.00mm, 90deg, Lemo 5-Way (SigmaCheck)
A090
USB CABLE - A to MINI B, 1m, (RoSH Compliant)
AC005
Accessory Ultra portable carry case
A092
Power Supply/Battery Charger - USB - Includes, UK, EU, US, AUS and IEC adapters 100-240v (SigmaCheck)
40293
Quick Reference Card - SigmaCheck
30239
2 Ergonomic Probe Skirts for tubes and easy probe handling
Accessories
| Part # | Item |
| --- | --- |
| ASIG010 | Accessory, Dual Conductivity Reference Standards, Nominal Values 2.5% and 102% IACS (SigmaCheck) NIST Values |
| ASIG011 | Accessory, Dual Conductivity Reference Standards, Nominal Values 8.5% and 101% IACS. Recommended for High Conductivity measurement e.g. Copper & precious metals NPL Values |
| ASIG004 | Accessory. Hard Peli 1400 Case with custom shaped foam inserts (SigmaCheck) |
| 40222 | Machined Red Rubber Boot - SigmaCheck |
| PSIG002A | Probe, Conductivity, Dia 8.00mm, Straight, Lemo 5-Way (SigmaCheck) |
Reference Blocks
The conductivity of each reference standard is determined in the central area of the 15mm diameter of the front face by comparison with a similar material, the conductivity of which has been determined in terms of traceable electrical standards.
All supplied blocks are calibrated and the certification of the equipment used in this process is traceable to the National Physics Laboratory (NPL) and the National Institute of Standards and Technology (NIST), and calibrated in accordance with ASTM B193-02.
NB Conductivity Values vary, for current stock values contact us via sales@ethernde.com
ETher NDE offer the following reference blocks:
Conductivity Reference Blocks - NIST
Conductivity Reference Blocks - NPL
Part #
Item
ASIG003
Reference Block Holder
Holds 5 reference blocks and provides a location to secure a SigmaCheck "top block"
Specification