ViCTor 2.2D
Eddy Current Flaw Detector for Automated Inspections
ETher NDE introduces the ViCTor 2.2D, the user-friendly automated eddy current inspection system, designed with the Automation Engineer in mind. Based on our long standing range of core flaw detectors and software, NDT Inspectors will become quickly familiar with its user interface and with a variety of case configurations available, the ViCTor 2.2D offers maximum flexibility for each individual application.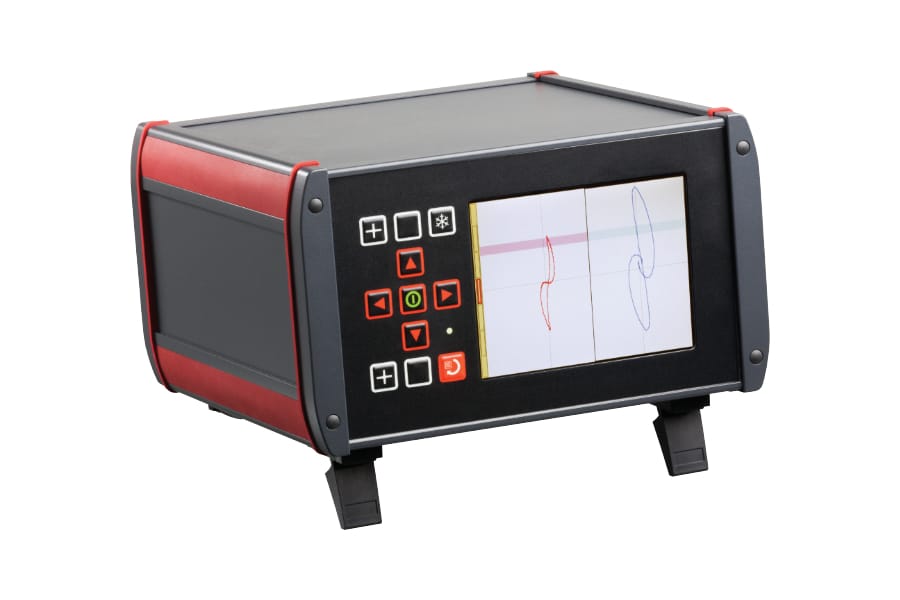 Eddy Current is ideally suited to inspection automation particularly of so called rotationally symmetric components for the following reasons:
Non-Contact
High Speed (potentially up to 200ms-1)
No coupling needed, no effluent produced
Ideal for surface defect detection
Wide geometry of probes available
Cost effective inspection solution for rotationally symmetrical components e.g. Bearings, Gudgeon pins, Cylinder Liners etc.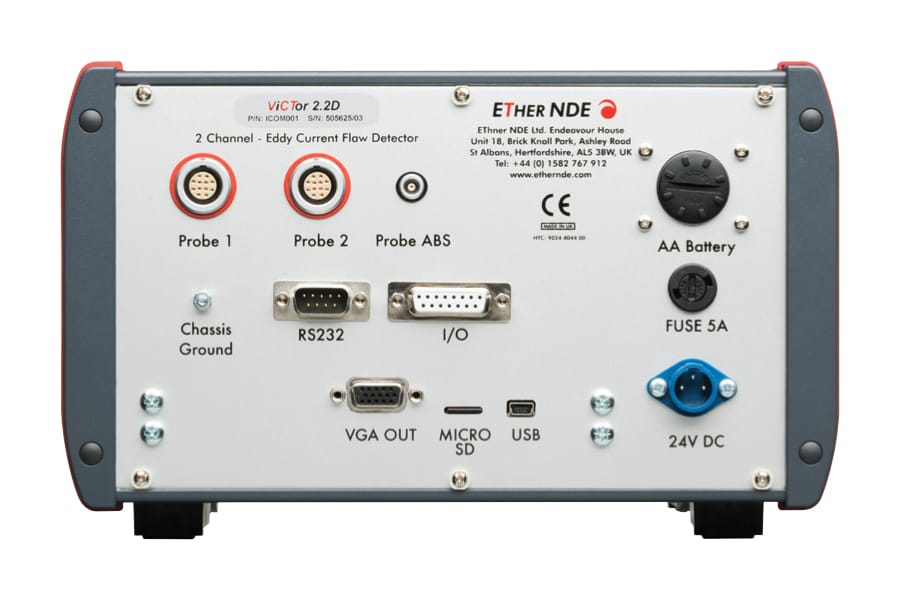 ---
Industries & Applications
Advantages
Capable of simultaneous use of two probes, for increased inspection efficiency
Separate dual alarms
Rotary Drive and Conductivity operating modes on-board
Large, bright LCD screen and external VGA for monitor output
Powered by 24V for easy industrial control system integration
RS-232 & USB remote control for easy control system integration
Ability to stream real time data over a USB
Dual analogue outputs enable simple recording.
Features
"Guides" Feature
"Guides" allow the user to display a slide show that can be created easily with commonly used desktop software. The benefit of this feature is that instructions, tutorials and procedures for the inspection can be added to the AeroCheck+ very quickly and the NDT inspector can easily switch between the Inspection itself and the "Guides" while performing a live test.
Innovative "Loop" Feature
"Loop" is a convenient way of capturing a live repetitive signal and then adjusting the instrument settings especially Phase, Gain and Filters in order to simplify the task of optimizing the parameters.
Data Logging
Real time recording or signal data and "replay" on instruments & desktop PC, up to 164 seconds.
Trace
The trace function allows a reference waveform to be stored on the screen and appears along with the graticule behind the live spot. This allows the operator to readily compare the live data with the reference calibration.
Standard Kit
Part #
Item
KICOM001 KIT, ViCTor 2.2D, Two Channel, Eddy Current Flaw Detector. Including:
ICOM001
Instrument, ComponentCheck, Two Channel, Dual Frequency, (20Hz-20MHz) Flaw Detector. Software + Manual on USB Stick, with Rotary & Conductivity at 60kHz Functionality, (Country of Origin: GB)
ACOM001
Accessory, ViCTor 2.2D Mains Power Supply, , Input Voltage AC 90V-264V, (Mains Plug Sold Separately)
AMXXX
ACCESSORY, MAINS LEAD, 2m, (Per Country of Destination)
C217
IO CONNECTOR - 15-Way Male sub-D Connector, Metal Straight Hood
60054
Software, Victor2.2D USB Stick Image
Accessories
| Part # | Item |
| --- | --- |
| ACOM003 | Accessory, ViCTor 2.2D External Alarm Box (x2 LED x1 Buzzer) |
A wide range of probes are available.
Specification