RailCheck
The RailCheck Flaw detector is a hand-held Eddy current flaw detector, modified for specific rail inspection, and is easily partnered with a rail trolley and ETher NDE's rail probes.
The FILUS EC-1 Trolley is a hand-pushed trolley, specially designed to check a single rail using Eddy current methods. The trolley uses a single eddy current probe and is capable of continuous inspection of the rail for defects which break the surface of the head of the rail. Inspection of the gauge corner and face for head checks is also possible due to the unique design of the probe.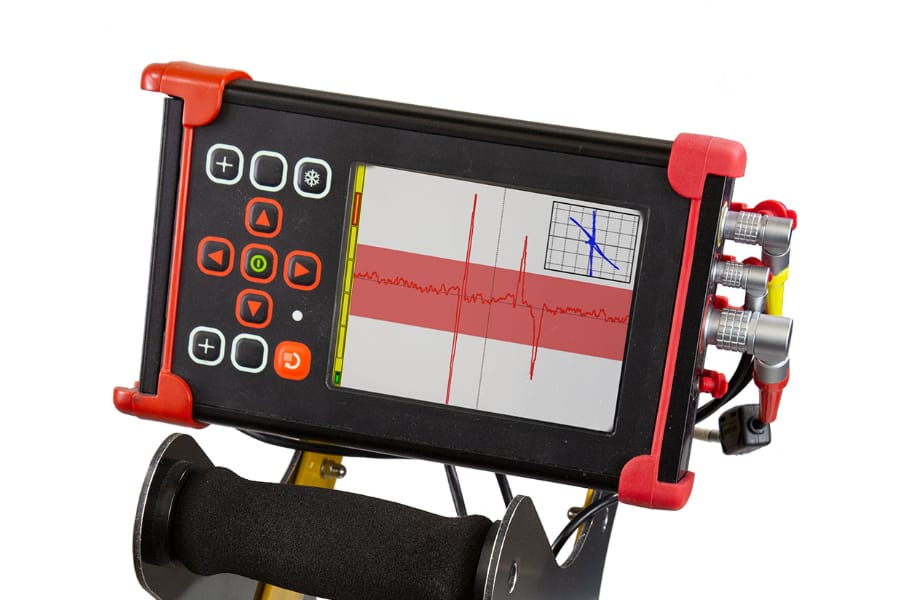 The on-board RailCheck Eddy Current flaw-detector can be configured to trigger an audible and visual warning should a defect be indicated; the display shows the presence of potential defects in the rail and the complete inspection is continuously recorded for later analysis.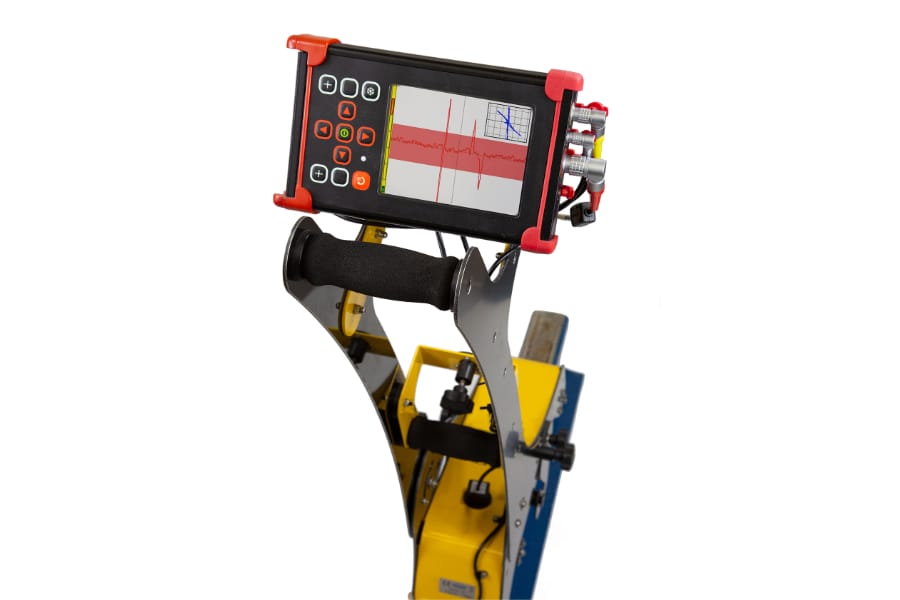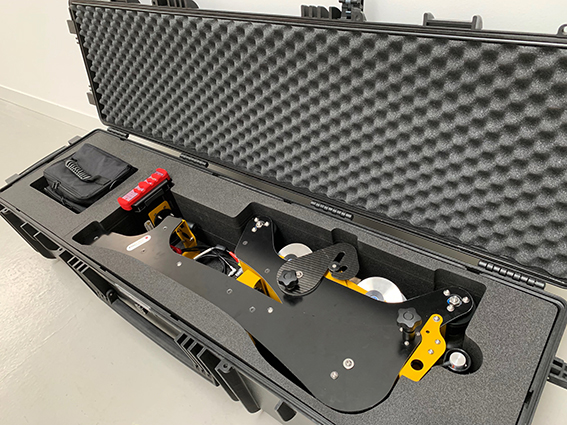 RailCheck and Inspection Trolley Shipping Case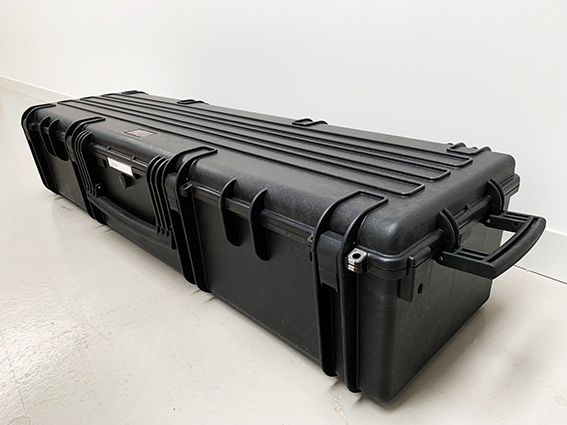 RailCheck & Trolley Explorer Transit Case
---
Industries & Applications
Advantages
Single Rail Eddy Current Trolley to detect surface-breaking defects
Unique Probe designed to follow the shape of the top and gauge faces of the rail
Adjustable height rollers to ensure a constant gap between probe and rail, for smooth probe carriage
Sprung Diablo wheels to ensure a good reference to the gauge face
User friendly interface, single level menu system, "quick function" sidebar
Large Daylight readable display 145mm (5.7")
Rugged lightweight housing 1.2kg (2.6lbs)
2 year standard warranty
Optional ETherCover extending warranty to 5 years
Features
"Widescan" Rail probe
Ether's "Widescan" Rail probes are used in conjunction with an ETher NDE portable flaw detector for rapid rail inspection, they can detect surface breaking flaws, lightness, and overcome consistency problems associated with ultrasonic couplant and higher surface speed capability.
Defect sizing
The Rail probe, a single probe that is capable of detecting orientated flaws in one pass of the rail head, giving depth (size) of the flaw.
Rotary Encoder
A rotary encoder to provide distance information to the software and synchronise the sample rate with the speed.
Vector Display
"Trace" vs "distance" can be captured and when using Vector Display both data sets can be shown simultaneously.
Standard Kit
Part #
Item
KIRAIL001 KIT - RailCheck, Dual Frequency Eddy Current Portable Flaw Detector with Encoder Input. Includes:
IRAIL001 Instrument
RailCheck, Dual Frequency Eddy Current Portable Flaw Detector, with Encoder Input
AWEL002 Accessory
Power Adapter + Input Plugs, (UK, EU, US & Australia)
AWEL003 Accessory
Adjustable Padded Shoulder Strap, Quick-Release Clips
AC006 Accessory
Instrument Soft Carry Case
A090
USB CABLE - A to MINI B, 1m, (RoSH Compliant)
40865
Quick Reference Card - RailCheck
ALL12R-L04-015R-V1
Accessory, Lead, Lemo 12-Way (Right angled) - Lemo 4-Way, 1.5m (Reflection), [V1= lemo 12-Way type= anglissimo]
AAER004 Accessory
Protective Splash Proof Cover
ALL04-L04-015-RAIL
Accessory, Lead, 4-Way Lemo (Right angle - anglissimo) to 4-Way Lemo, 1.5m, Bridge and Reflection (RailCheck)
ALL12-L04-025B
Accessory Lead, Lemo 12-Way - Lemo 4-Way, , 2.5m (Bridge)
ALL12-B02-015A
Accessory Lead, Lemo 12-Way - BNC Plug, , 1.5m (Absolute)
ALL12-M02-015A
Accessory Lead, Lemo 12-Way - Micro Plug, , 1.5m (Absolute)
C234 PLUG 8-WAY
LEMO Solder Type (4.1 to 5.0mm) (LEMO: FGG.1B.308.CLAD52Z)
C232 CABLE SLEEVE
LEMO GMA.1B.045.DJ (YELLOW) Bend Relief (Polyurethane) (To fit Cable Dia 4.5 - 4.9mm)
60105
Software, RailCheck USB Stick Image - Issue 1
Accessories
Part #
Item
PT013
PT013 - Probe, WideScan, To Fit Rail Type UIC 60, Single Coil, Reflection, 20kHz to 500kHz, Lemo 4-Way socket.
PT013-01
Probe, WideScan, To Fit Rail Type UIC 60, 50mm Wide, Dual Coil, Reflection, 20kHz to 500kHz, x2 Lemo 4-Way Sockets
PT003
Probe, WideScan, Rail Head RT-1, 50mm Wide, Single Coil, Reflection, 20kHz to 500kHz, Lemo 4-Way Socket
PT004
Probe, WideScan, Rail Head RT-1, 50mm Wide, Dual Coil, Reflection, 20kHz to 500kHz, x2 Lemo 4-Way Sockets
ALL04-L04-025BR
Accessory, Lead, 4-Way Lemo to 4-Way Lemo 2.5m BRIDGE & REFLECTION
ALL12-L04-025R
Accessory, Lead, Lemo 12-Way - Lemo 4-Way, 2.5m (Reflection)
ALL08-ENC-002
Accessory, Encoder to Lemo 8-way, 2m long, ENCODER - Incremental Encoder 1024 ppr 12000rpm 5 24 V dc (Manual Scanning)
Trolley (TBC)