Successful delivery of the first VeeScans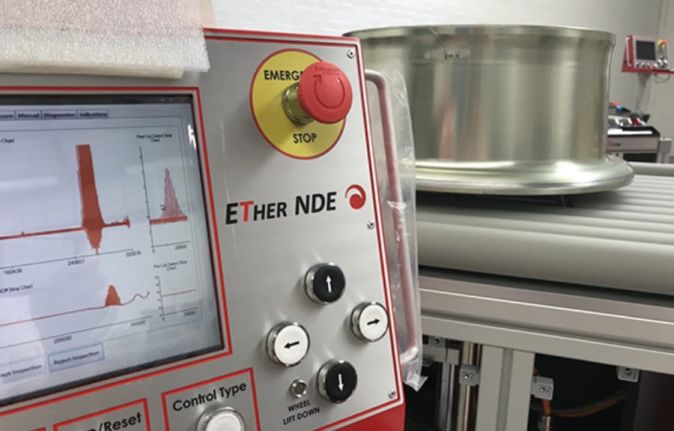 July 2015
The VeeScan Eddy Current Aircraft Wheel Inspection Systems are a key part of the ETher NDE range. Designed by the team behind the Hocking Wheelscan 5, the VeeScan has the pedigree of expert engineering expected within the industry.
The recent months have seen the first of the VeeScan units going into production with orders from key airlines in the Middle East. With competitive products either having their support withdrawn or harbouring ageing technology, it has become a key time for the VeeScan to really make an impact into the market.
The VeeScan is ETher's first Wheel Inspection System and is available in two different models, VeeScan H for maximum flexibility and VeeScan R for optimised productivity. The VeeScan is able to be configured with a wide choice of probes and allows any wheel testing facility the flexibility to select the system most compatible with their workload. Teamed with a full choice of operation modes, the VeeScan maximises the probability of detection.
---
About ETher NDE
We are a dedicated manufacturer of Eddy Current (ECT) non-destructive testing (NDT) equipment, probes and accessories and the 'go to' company for all your Eddy Current (EC) NDT Solutions. ETher NDE was founded on three core principles and to this day they are still what we operate in line with everyday. They are firstly the ability to speak to someone who understands our product, the industry and your applications; secondly industry-leading delivery times on equipment and probes and the ability to respond to your challenges and thirdly that our products are second to none in both performance and quality. We are proud that as a company we operate to these core principles continuously and that we are true to the main reason the company was founded; to offer Eddy Current NDT Solutions to the industry backed up by a wealth of knowledge and sealed with great customer service from real people who care and are passionate about what they do.