Making MFL tube inspection easier than ever…. The new SteelCheck - compact, portable and fast.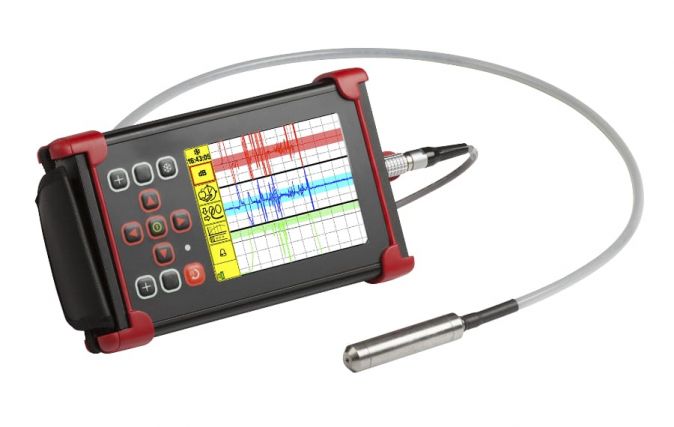 February 2019
ETher NDE are proud to officially release the latest addition to their Eddy Current Flaw Detector range - the SteelCheck. Building on the success of ETher's NDT product development, the SteelCheck has been designed to bring to the market the most compact dedicated MFL instrument for testing carbon steel tubes and plates.
Housed in a robust, site proven enclosure the SteelCheck offers the operator a 3 channel (Hall Sensor and 2 coil) flux leakage system; ideal for tube inspection unit for Carbon Steel (Ferromagnetic Tubes), especially "Fin-Fan" tubes. Unlike other remote field eddy current methods, it is unaffected by external aluminium fins and has the capability to discriminate between external and internal defects and wall thinning.
Packaged to be a highly portable, battery operated MFL system, with up to 8 hours operation time on one charge, the SteelCheck offers faster pulling speeds, with a maximum pull of 100kg. The rugged stainless steel and titanium probe design delivers a performance longevity greater than 1000 tubes, with a standard 20m (65ft) push-pull cable. With improved signal to noise, a large daylight readable display and the proven easy to use Ether user interface on board - the SteelCheck is ready to go as soon as it is "out of the box" – all at an attractive price offering exceptional value for money.
The SteelCheck comes with a two year warranty and the guarantee of product quality and efficient support from Ether NDE and their distributor network. ETherCover is also available which will extend your cover to 5 years and includes annual re-calibration and health check for four years commencing at the end of year one, two free of charge battery swaps if required within the 5 year period complimentary software upgrades during the five year period with a guaranteed fast turn around.
---
About ETher NDE
We are a dedicated manufacturer of Eddy Current (ECT) non-destructive testing (NDT) equipment, probes and accessories and the 'go to' company for all your Eddy Current (EC) NDT Solutions. ETher NDE was founded on three core principles and to this day they are still what we operate in line with everyday. They are firstly the ability to speak to someone who understands our product, the industry and your applications; secondly industry-leading delivery times on equipment and probes and the ability to respond to your challenges and thirdly that our products are second to none in both performance and quality. We are proud that as a company we operate to these core principles continuously and that we are true to the main reason the company was founded; to offer Eddy Current NDT Solutions to the industry backed up by a wealth of knowledge and sealed with great customer service from real people who care and are passionate about what they do.