ETher NDE win UK Ministry of Defence Contract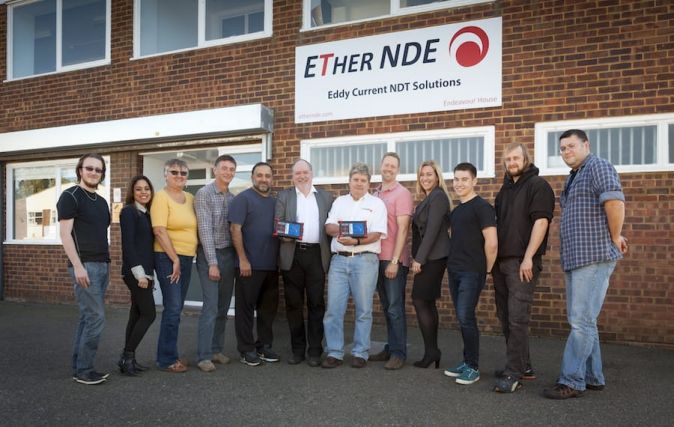 June 2016
ETher NDE is delighted to announce that they have successfully secured an Order from the UK Ministry of Defence (MoD) to supply almost two hundred Eddy Current Flaw Detectors, which will be deployed worldwide.
ETher NDE will be supplying the MoD with their AeroCheck+ ECT Flaw Detector, the latest flaw detector to be added to the ETher NDE range. The AeroCheck+ was launched by ETher in January 2015 and has proven a perfect fit for the MoD requirement meeting all their specification needs.
The AeroCheck+ offers Rotary Capabilities as standard as well as offering Dual Frequency with Auto-mix (which simplifies the sometimes complex procedure of mixing two different frequency signals) and Conductivity Measurement along with an outstanding Frequency Range from 10Hz to 12.8MHz.
A number of additional benefits have been introduced in the AeroCheck+; the innovative "Loop" feature which captures a short live signal and then allows the operator to easily optimise the instrument settings especially Phase, Gain and Filters, thus greatly simplifying the task of instrument setup. A novel feature is "Guides", which allows the user to display a slide show that can be created with commonly used desktop software allowing instructions, tutorials and procedures for the inspection to be readily available to the NDT technician on the AeroCheck+.
The MoD awarded ETher the Contract on 3rd September 2015, but there had been substantial previous work undertaken to get the AeroCheck+ and our bid to that successful stage, with Tender submission in June 2015 and pre-qualification being achieved in August 2014. Delivery of the units is already underway and as business continues to grow for Ether NDE, this order is contributing to a very busy and exciting end to 2015 for the company.
John Hansen, Managing Director of ETher NDE said,
"This was a hard fought contract against a worthy opponent but I'm glad to say ETher NDEs customer focus and principal of offering our customers outstanding Eddy Current instrument performance at a competitive price and in a compact package resulted in our success."
---
About ETher NDE
We are a dedicated manufacturer of Eddy Current (ECT) non-destructive testing (NDT) equipment, probes and accessories and the 'go to' company for all your Eddy Current (EC) NDT Solutions. ETher NDE was founded on three core principles and to this day they are still what we operate in line with everyday. They are firstly the ability to speak to someone who understands our product, the industry and your applications; secondly industry-leading delivery times on equipment and probes and the ability to respond to your challenges and thirdly that our products are second to none in both performance and quality. We are proud that as a company we operate to these core principles continuously and that we are true to the main reason the company was founded; to offer Eddy Current NDT Solutions to the industry backed up by a wealth of knowledge and sealed with great customer service from real people who care and are passionate about what they do.