ETHER NDE Festive Season Opening Times 2021-2022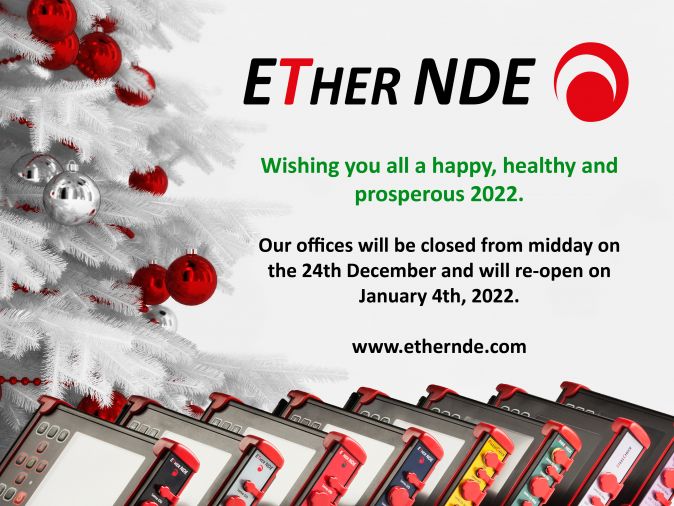 December 2021
Wishing you all a Merry Christmas and a very happy and healthy New Year for 2022.
We will be closed from noon on Friday December 24th and will re-open on Tuesday January 4th, 2022. This year has been another challenging year for everyone and we appreciate your partnership and support throughout and we are looking forward 2022. In the meantime we wish you, your families and teams a Merry Christmas and a healthy and happy New year.
ETHER NDE Team
---
About ETher NDE
We are a dedicated manufacturer of Eddy Current (ECT) non-destructive testing (NDT) equipment, probes and accessories and the 'go to' company for all your Eddy Current (EC) NDT Solutions. ETher NDE was founded on three core principles and to this day they are still what we operate in line with everyday. They are firstly the ability to speak to someone who understands our product, the industry and your applications; secondly industry-leading delivery times on equipment and probes and the ability to respond to your challenges and thirdly that our products are second to none in both performance and quality. We are proud that as a company we operate to these core principles continuously and that we are true to the main reason the company was founded; to offer Eddy Current NDT Solutions to the industry backed up by a wealth of knowledge and sealed with great customer service from real people who care and are passionate about what they do.