ETher NDE collaborate on the Innovate UK project for the Eddy current inspection of carbon fibre.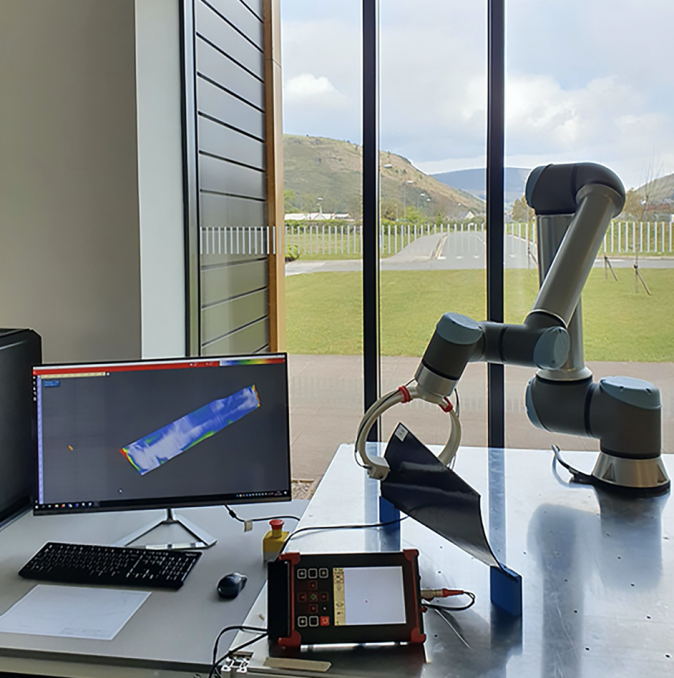 December 2021
"CFlux" is a project for the Eddy current inspection of Carbon fibre raw materials and cured parts in the Aerospace industry.
Consortium members include TWI Wales (Robotics and Data Management), ETher NDE (Eddy Current Hardware and Probes), M Wright and Sons (3D woven CFRP and test Pieces), FAR Composites (FEA, Reference Samples and Tool Design) and AHS (ECFM sensors). The project is funded by Innovate UK.
Shown here is a Prototype Cobot system at TWI Wales scanning a 3D Blade Shape using an ETher NDE AeroCheck+ . 3D woven structural parts are stronger than conventional fabric lay-up parts, as the carbon fibre is continuous throughout the product structure.
---
About ETher NDE
We are a dedicated manufacturer of Eddy Current (ECT) non-destructive testing (NDT) equipment, probes and accessories and the 'go to' company for all your Eddy Current (EC) NDT Solutions. ETher NDE was founded on three core principles and to this day they are still what we operate in line with everyday. They are firstly the ability to speak to someone who understands our product, the industry and your applications; secondly industry-leading delivery times on equipment and probes and the ability to respond to your challenges and thirdly that our products are second to none in both performance and quality. We are proud that as a company we operate to these core principles continuously and that we are true to the main reason the company was founded; to offer Eddy Current NDT Solutions to the industry backed up by a wealth of knowledge and sealed with great customer service from real people who care and are passionate about what they do.