Ether NDE are proud to announce that we are now an ISO 14001 company.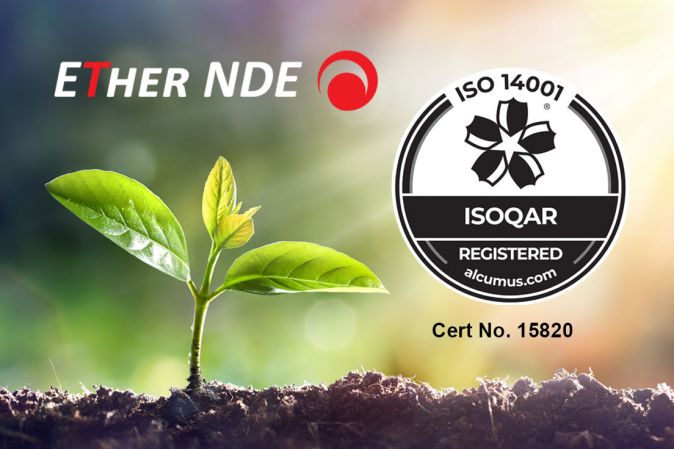 April 2022
Ether NDE are delighted to announce we have been awarded ISO 14001:2015 certification, the International Standard for environmental management; supporting organisations to reduce environmental impact, focussing businesses to effectively manage the environmental challenges of the future .
The team at Ether have been preparing and working towards this for over a year, so we are delighted to have met the standards required and of course be able to pass on our environmental creditability to our customers and partners, via our products and services. Appreciation and congratulations to all the team involved in working towards the ISO 14001 goal.
Ian Gough (Ether NDE Operations Manager) stated "ISO 14001:2015 is the international standard for Environmental Management System. Our certification allows ETher NDE to demonstrate its compliance with current regulatory and statutory requirements. Further it is a system for ensuring that we remain conscious of the environmental impacts of our operations and continue to improve them over time. Great effort from the entire team to help develop our current Environmental Management System, with special thanks to Shamaiel Ahmed (Production Quality Engineer) and Nelly Fernandez (Applications/Product Support Engineer)"
Mike Reilly adds "ETher NDE is now an ISO14001 Company adding to our existing ISO9001 Approvals. Our Customers know that they are buying the best Eddy Current Products in the world and can now be assured that those Products are designed and manufactured in the most planet-friendly and environmentally conscious manner possible."
---
About ETher NDE
We are a dedicated manufacturer of Eddy Current (ECT) non-destructive testing (NDT) equipment, probes and accessories and the 'go to' company for all your Eddy Current (EC) NDT Solutions. ETher NDE was founded on three core principles and to this day they are still what we operate in line with everyday. They are firstly the ability to speak to someone who understands our product, the industry and your applications; secondly industry-leading delivery times on equipment and probes and the ability to respond to your challenges and thirdly that our products are second to none in both performance and quality. We are proud that as a company we operate to these core principles continuously and that we are true to the main reason the company was founded; to offer Eddy Current NDT Solutions to the industry backed up by a wealth of knowledge and sealed with great customer service from real people who care and are passionate about what they do.