Ether introduce the AeroCheck+ EC Flaw detector - new features, advanced capabilities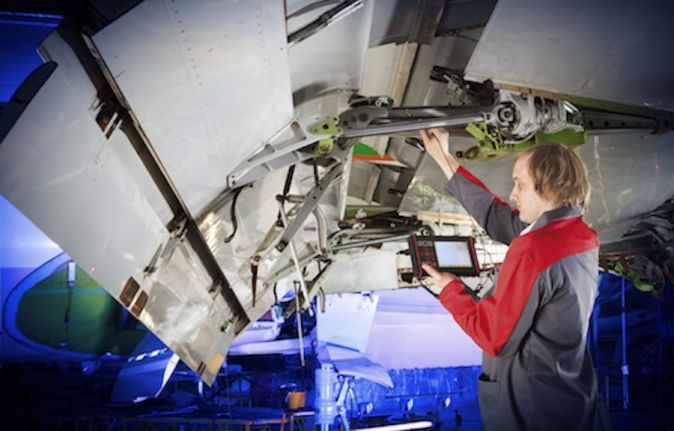 September 2014
This month saw the official launch of the AeroCheck+ Eddy Current Flaw Detector from ETher NDE and since then even more tools to enhance the user experience have been added to offer the operator the very best in capabilities and ease-of-use along with excellent Eddy Current Performance.
The AeroCheck+ offers the same features as the AeroCheck, including Rotary Capabilities as standard, but in addition offers Dual Frequency with Auto-mix and Conductivity Measurement as well as an outstanding Frequency Range from 20Hz to 20MHz. Auto-mix simplifies the sometimes complex procedure of mixing two different frequency signals and can be achieved on the AeroCheck+ through a series of easy steps. Setting the Auto-mix itself is as simple as pressing one key.
Since launching the AeroCheck+, a number of additional benefits have been introduced to the unit. Firstly, there is the innovative "Loop" feature. "Loop" is a convenient way of capturing a live repetitive signal and then optimizing the instrument settings especially Phase, Gain and Filters in order to simplify the task of optimizing the parameters.
Secondly, we have added "Guides", which allow the user to display a slide show that can be created easily with commonly used desktop software. The benefit of this feature is that instructions, tutorials and procedures for the inspection can be added to the AeroCheck+ very quickly and the NDT inspector can easily switch between the Inspection itself and the "Guides" while performing a live test.
John Hansen, Managing Director of ETher NDE, said
"Since introducing the AeroCheck in February, we have been able to gather extensive feedback from Eddy Current NDE Professionals around the world and we have endeavoured to distill the best of these ideas and suggestions into the functions and performance of the AeroCheck+. We are very confident that this process has resulted in the AeroCheck+ being the most powerful, yet simple to use, hand-held Eddy Current Instrument the Industry has ever seen".
---
About ETher NDE
We are a dedicated manufacturer of Eddy Current (ECT) non-destructive testing (NDT) equipment, probes and accessories and the 'go to' company for all your Eddy Current (EC) NDT Solutions. ETher NDE was founded on three core principles and to this day they are still what we operate in line with everyday. They are firstly the ability to speak to someone who understands our product, the industry and your applications; secondly industry-leading delivery times on equipment and probes and the ability to respond to your challenges and thirdly that our products are second to none in both performance and quality. We are proud that as a company we operate to these core principles continuously and that we are true to the main reason the company was founded; to offer Eddy Current NDT Solutions to the industry backed up by a wealth of knowledge and sealed with great customer service from real people who care and are passionate about what they do.