Ether feature on BINDT Insight magazine front cover December 2014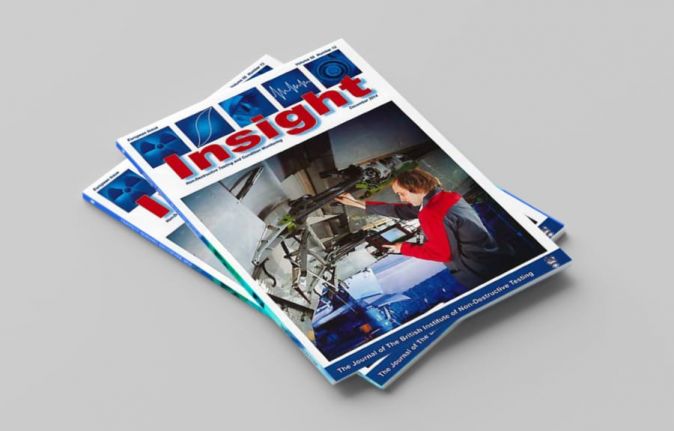 December 2014
This month's front cover features the AeroCheck Series Eddy Current Flaw Detector from ETher NDE.
he AeroCheck Series has two versions, the AeroCheck and AeroCheck+. Both instruments can be used with Absolute, Bridge and Reflection Probes without the need for adaptors and offer rotary capability as standard. In addition, the AeroCheck+ offers dual frequency with auto-mix and conductivity measurement as well as a fantastic frequency range from 20Hz to 20MHz.
With a fully daylight readable screen, weighing just 1.2kg and housed in a tough Aluminium/Mg Si 0.5 Alloy powder-coated outer case, the AeroCheck Series is ideal for any working environment from the laboratory to the tightest spaces on an aircraft.
This photo was shot at ATC Lasham. With strategic sites in Lasham and Southend, ATC is the UK's leading independent aircraft maintenance provider. We would like to thank all the staff at ATC Lasham for allowing us to use their facilities to capture our photos.
---
About ETher NDE
We are a dedicated manufacturer of Eddy Current (ECT) non-destructive testing (NDT) equipment, probes and accessories and the 'go to' company for all your Eddy Current (EC) NDT Solutions. ETher NDE was founded on three core principles and to this day they are still what we operate in line with everyday. They are firstly the ability to speak to someone who understands our product, the industry and your applications; secondly industry-leading delivery times on equipment and probes and the ability to respond to your challenges and thirdly that our products are second to none in both performance and quality. We are proud that as a company we operate to these core principles continuously and that we are true to the main reason the company was founded; to offer Eddy Current NDT Solutions to the industry backed up by a wealth of knowledge and sealed with great customer service from real people who care and are passionate about what they do.