35th Control International Trade Fair for quality assurance will open its doors on the 9th May, 2023.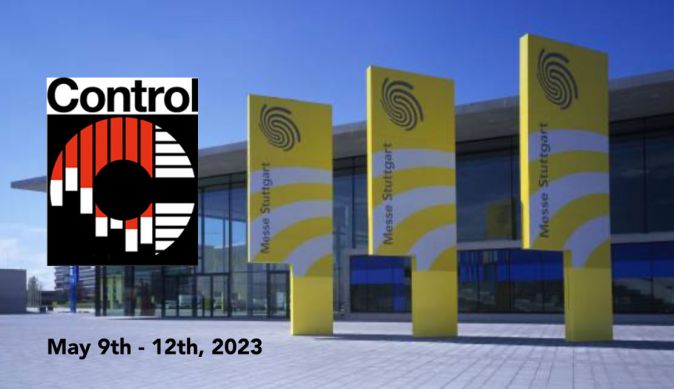 April 2023
ETher NDE are proud to be exhibiting at CONTROL 2023, showcasing our latest eddy current NDT solutions, supported by our regional distribution partners - Springer New Technologies.
Ether NDE will be exhibting in Hall 7, on stand 7604. A leading product showcase will be the AmCheck, the most recent addtion to our automated inspection capabilities . Eddy Current is ideally suited to inspection automation particularly of so called rotationally symmetric components as it is a non-contact technique where coupling is not needed and no-effluent is produced.
Ether NDE's automated eddy current inspection systems are designed with the Automation Engineer in mind. Based on our long standing range of core flaw detectors and software, NDT Inspectors will become quickly familiar with its user interface, with a variety of case configurations available to suit the inspection environment. ETher NDE offer a wide selection of probes and range of geometries, delivering very cost effective inspection solutions, especially for rotationally symmetrical components.
The 35th Control international trade fair for quality assurance will open its doors in Stuttgart to technology updates from the fields of vision systems, image processing and sensor technology, as well as measuring and test technology, from the 9th through the 12th of May, 2023. Trending issues include modern software, inline inspection processes and AI-assisted systems.
---
About ETher NDE
We are a dedicated manufacturer of Eddy Current (ECT) non-destructive testing (NDT) equipment, probes and accessories and the 'go to' company for all your Eddy Current (EC) NDT Solutions. ETher NDE was founded on three core principles and to this day they are still what we operate in line with everyday. They are firstly the ability to speak to someone who understands our product, the industry and your applications; secondly industry-leading delivery times on equipment and probes and the ability to respond to your challenges and thirdly that our products are second to none in both performance and quality. We are proud that as a company we operate to these core principles continuously and that we are true to the main reason the company was founded; to offer Eddy Current NDT Solutions to the industry backed up by a wealth of knowledge and sealed with great customer service from real people who care and are passionate about what they do.