Pencil Probes (PS/PU)
At ETher NDE we design and manufacturer all our Eddy Current (ECT) probes in house and with the ability to design your probes to the exact non-destructive testing (NDT) application you have, even the 'simple' Pencil Probe becomes specific to you.
With the most common Eddy Current (EC) Pencil Probes available 'on-stock', we can promise you rapid delivery on these Probes, meaning that you can be back to inspecting in the fastest possible time.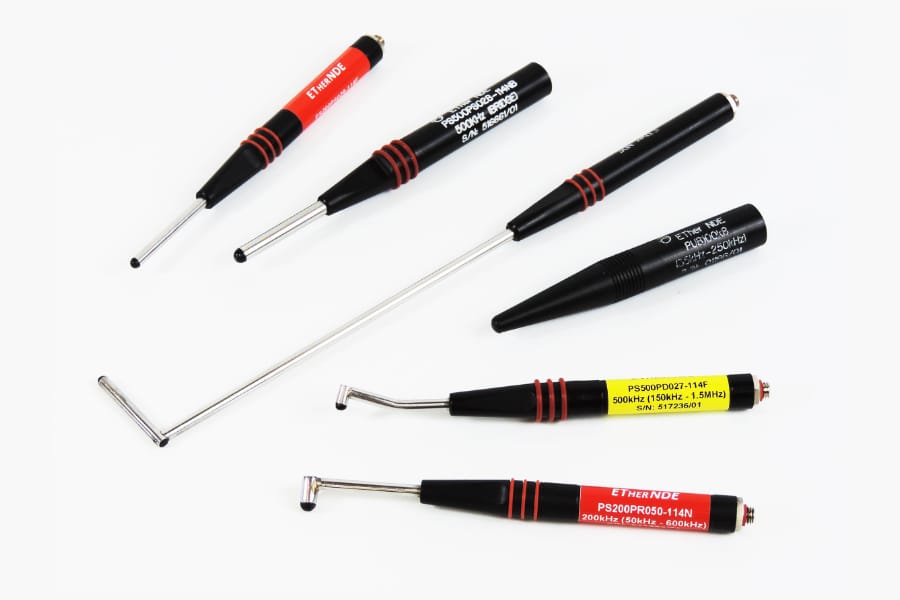 Absolute Pencil probes are for general purpose inspection of surface breaking defects and metallurgy variations, uses Micro connector.
Bridge Pencil probes embody ETher NDE's newly developed "IB Tech Inside " absolute intrinsically balanced technology which further improves the signal to noise ratio of conventional absolute probes giving a significant improvement in inspection reliability, uses Lemo 4-Way connector.
Key Features
Equally applicable to the high frequency surface inspection of ferromagnetic and non-ferrous material
Double shielded for use close to materials edges and vertical metal faces ( Mass effect), with both outer stainless steel and inner ferrite shielding
Ergonomic stress free handling for reliable and accurate inspections, with plastic handles and neoprene grips
Dis-connectable for rapid change over
Standard probe frequencies available with a wide range of operating frequencies: 200kHz (50-600kHz), 500kHz (150k-1.5MHz), 2MHz (650k-6MHz) AND 6MHz (2-18MHz), meaning one probe can be used for a wider rang of applications
"IB" or "InBal" probes feature an "Internal Balance" Load, simplifying set up, delivering ultimate signal to noise ratio, enabling small defect detection
Locking 4 way LEMO connector Available with INBAL probes
Each frequency, exceptionalities 6MHz, available in Standard and Fine Tip sizes
Standard probes are in fixed dimensions, but can be supplied in many other configurations.
Do you need an equivalent day current ET probe from another manufacturer? Get in touch as we are able to match most of our competitor's part numbers.
---
Download our Probe Catalogue
Short Form Probe Catalogue (1.7MB)